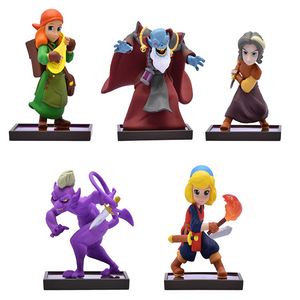 Turn up the beat, because the gang's all here! 
Unleash the power of all 5 Crypt of the NecroDancer characters and add some groove to any woefully quiet surface with this dynamic set of figurines. If you've got the space, they've got the vibes! 
This set contains figurines of Cadence, Melody, Aria, Coda and the NecroDancer himself! Designed by Gijs van Kooten, each character is made of high-quality PVC and stands at 3.5 inches. You can keep them in their windowed collector's boxes or let them roam free on their non-detachable bases as you please.
Figurines also available sold separate while supplies last! Check out our store page for more!

If you ordered multiple items, they may ship in separate boxes. You will receive separate emails with tracking information for each box once shipped.